How world sees SA: Brace for Rand shocks, more credit ratings downgrades after cabinet clean-out
Investors in South Africa and around the world are bracing for extreme rand volatility and expect multiple credit ratings downgrades to hammer the country. This follows a move by President Jacob Zuma to clean out the cabinet in favour of his acolytes. He has switched nine ministers, including axing finance minister Pravin Gordhan – who has taken a brave stand against corruption and state capture. Zuma's action was undoubtedly intended to protect his faction, who have had their snouts in the trough as allegations of corruption and financial irregularity have continued to mount. The Gupta family is widely believed to pull Zuma's strings, with this development only serving to confirm that Zuma is not in politics for the ANC or the nation – he is in it only for himself and his friends. Investors no longer trust in the country's fiscal stability. Zuma needn't feel too comfortable. The fallout from this decision will be economic, ultimately hitting the many supporters he will need to keep his grouping in power at the next election. – Jackie Cameron
by Sam Mkokeli and Mike Cohen
South African President Jacob Zuma fired Finance Minister Pravin Gordhan and eight other cabinet members in a high-stakes power play that may threaten his own presidency and place the nation's investment grade credit rating at risk.
Gordhan was replaced by Home Affairs Minister Malusi Gigaba, who has no financial or business experience, while lawmaker Sfiso Buthelezi takes over from Mcebisi Jonas as deputy finance minister. The cabinet overhaul came in a late-night move that threatens to split the 105-year-old ruling African National Congress and trigger a revolt against the president. The rand extended losses, heading for its worst week in more than a year.
"Those walking into the Treasury tomorrow will not reassure anyone that the top institution protecting South Africa's fiscal stability is in safe hands," said Anne Fruhauf, vice president at New York-based risk adviser Teneo Intelligence. "The move invites a massive backlash from the anti-Zuma faction."
Zuma's decision to replace Gordhan, popular with investors because of his efforts to rein in spending, came in the face of opposition from three of the top six members of the ANC and its alliance partner, the South African Communist Party. Some cabinet ministers were said to be ready to turn against the president, who's survived a series of corruption scandals and presided over the party's worst-electoral performance since the end of apartheid in 1994 in municipal elections in August.
ANC Divisions
"This will exacerbate the existing divisions in the ANC," Daniel Silke, director of Political Futures Consultancy in Cape Town, said by phone. "We are really in for a roller-coaster ride in terms of ANC cohesion."
Gordhan's ouster marked the end of a stormy relationship that began almost as soon as Zuma named him as finance minister in December 2015, four days after the president triggered a sell-off in the rand by replacing the respected Nhlanhla Nene with a little-known lawmaker. He clashed with his boss over the affordability of building nuclear power plants and the management of state-owned companies.
The reshuffle comes in Zuma's last year as leader of the ruling party and while removing an opponent in a key position may strengthen his grip over the government, a backlash within the party would galvanize his detractors as he seeks to secure his choice as successor in a party election in December.
The rand tumbled, weakening 1.2 percent to 13.4399 per dollar by 2:40 a.m. in Johannesburg on Friday after slumping 1.9 percent the day before. It has plunged 7.5 percent this week, the most of 150 currencies tracked by Bloomberg.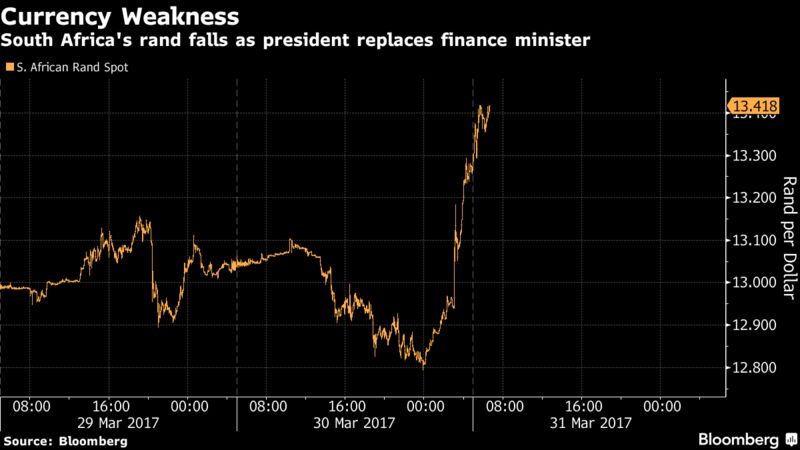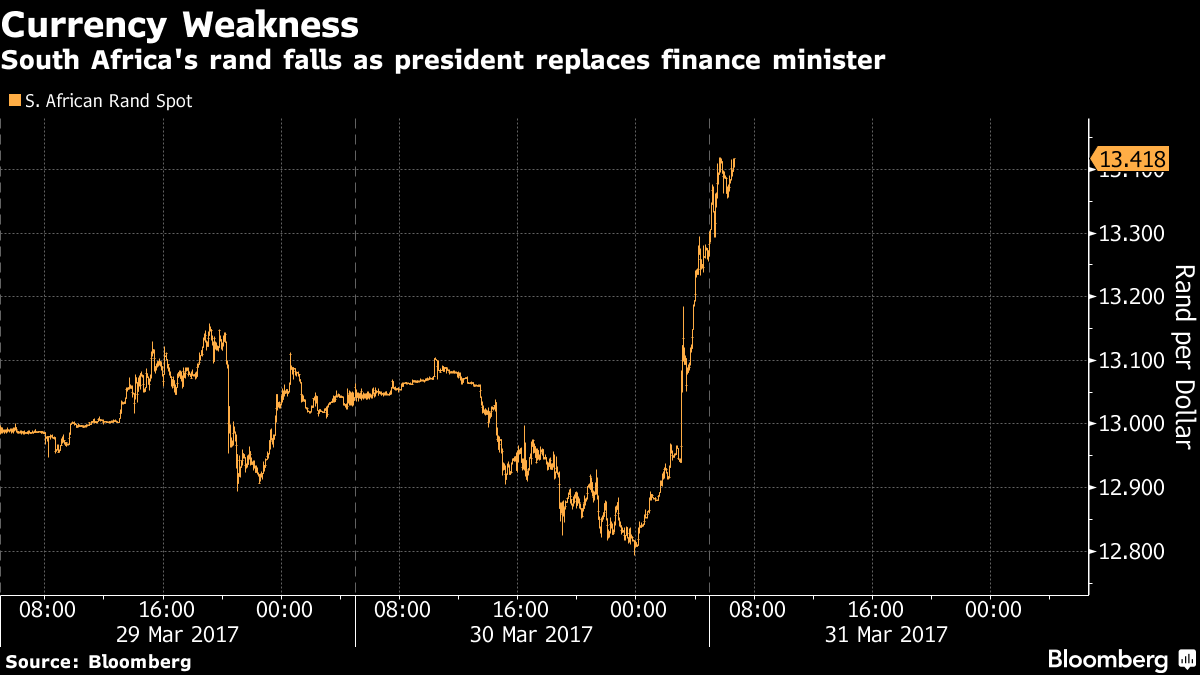 "In the space of 15 months, Zuma has fired two well-regarded finance ministers," said Nicholas Spiro, a partner at London-based Lauressa Advisory Ltd., which advises asset managers. "Unlike when Nene was fired, the opposition to Zuma within his government is now much stronger, presaging a full-blown political crisis. The rand will be punished even more severely and the whiff of a junk rating is in the air."
Zuma made 20 changes to his administration, capping a dramatic week when he ordered Gordhan on Monday to cancel a series of meetings with investors in the U.K. and the U.S. and return home. The South African Communist Party, an ally of the ANC, slammed the decision to recall Gordhan and warned against firing him.
Gordhan's successor, Gigaba, 45, was appointed as minister of home affairs in May 2014. A former president of the ruling party's youth wing, he trained as a teacher and holds a masters degree in social policy. He previously served as the minister of public enterprises, deputy home affairs minister and as a lawmaker for the ANC.
#cabinetreshuffle Malusi Gigaba!? And 'analysis' of his being 'young'? nonsense! He has been chosen because he's seen as pliable

— judith february (@judith_february) March 30, 2017
Cabinet Shake-Up
The other cabinet changes announced by Zuma include the appointment of Mmamoloko Kubayi as energy minister to replace Tina Joemat-Pettersson, Joe Maswanganyi as transport minister in place of Dipuo Peters and Tokozile Xasa as tourism minister in place of Derek Hanekom.
Zuma didn't bring in Nkosazana Dlamini-Zuma, the former head of the African Union Commission and his ex-wife, who is seen with Deputy President Cyril Ramaphosa as a leading contender for ANC president at a party electoral meeting at the end of the year.
Political Survivor
Zuma has survived a series of scandals since he became president in 2009. The Constitutional Court last year ruled that he broke his oath of office by refusing to repay taxpayer's money spent on his private home.
The nation's graft ombudsman also implied that he allowed members of the Gupta family, who are in business with his son, to influence cabinet appointments and the issuing of state contracts. Zuma and the Guptas deny having ever intentionally broken the law.
I never thought In my life that I would have to take a stand against an illegitimate government in #SA again. #CabinetReshuffle

— Jay Naidoo (@Jay_Naidoo) March 31, 2017
The cabinet changes will leave South Africa's credit rating vulnerable. Moody's Investors Service, which rates South Africa's debt at two levels above junk and with a negative outlook, is scheduled to publish a review of the nation's creditworthiness on April 7. S&P Global Ratings and Fitch Ratings Ltd. kept their assessments at the lowest investment grade late last year.
"We expect the current explosion of political turmoil and its resulting economic and fiscal uncertainties to catalyze sovereign rating downgrades," said Phoenix Kalen, director of emerging-market strategy at SocGen in London.
The two biggest opposition parties, the Democratic Alliance and the Economic Freedom Fighters, have filed for votes of no confidence in Zuma.
"This as an open attack on the Treasury to replace people who are anti-corruption with people loyal to Zuma to help the Zuma faction win in December," said Peter Attard Montalto, an economist at Nomura International Plc in London. "This is an attack on the institution of National Treasury and as such will trigger multiple downgrades."
By Robert Brand
South Africa's rand headed for its biggest weekly slide since 2015, after the firing of Finance Minister Pravin Gordhan raised concerns about the country's fiscal path and its investment-grade credit rating.
President Jacob Zuma is replacing Gordhan with Home Affairs Minister Malusi Gigaba, the Presidency said in a statement Friday. African National Congress lawmaker Sfiso Buthelezi will replace Gordhan's deputy, Mcebisi Jonas.
The rand was one of the top three emerging-market currencies last year and early 2017, but politics are again casting a cloud over the nation's assets. Gordhan had fended off a downgrade in South Africa's rating to junk, and his commitment to curb spending and government debt had endeared him to investors. He clashed with Zuma over the affordability of building nuclear power plants and the management of state-owned companies.
"Market reaction to the cabinet reshuffle and what looks to have been a clean sweep of the Treasury top team is going to be a significant negative," Razia Khan, chief Africa economist at Standard Chartered Plc, said in an email. "Given past volatility in the rand when a cabinet reshuffle was even suggested, the expectation is that the impact may be more pronounced now."
The rand was down 2.1 percent at 13.567 per dollar as of 2:09 p.m. in Tokyo trading, the weakest in two months. The currency was heading for a 9 percent loss for the week — the worst such performance since the last time Zuma rocked markets with a finance-minister firing. Back in December 2015, it was Nhlanhla Nene's ouster that hurt confidence — an episode that ended with Zuma bringing back the respected Gordhan to office.
Political tensions in the country may escalate further — read about that here.
#Zuma's midnight #CabinetReshuffle – the desperate act of a man who has sold his country for 30 pieces of silver to the highest bidder

— Debora Patta (@Debora_Patta) March 31, 2017
Politics aside, the generally positive environment for emerging markets, and synchronous pick-up in global economic growth, argues in favor of South Africa, with its mining assets. Its currency enjoyed a 12.6 percent jump against the dollar last year — behind only Brazil's real and Russia's ruble among emerging markets, according to data compiled by Bloomberg.
"The annoying, frustrating thing from the South Africa perspective is that you don't want political worries now, because things are trending up, things are picking up," Moz Afzal, global chief investment officer of EFG Asset Management, said in an interview in Singapore. "South Africa is pretty much in the penalty box" for investors now, he said.
As concerns over Gordhan's position mounted this week, South Africa's dollar bonds remained within recent trading rages, and its stock market was still heading for a weekly advance before confirmation of the firing. The FTSE/JSE Africa All Share Index was up 0.9 percent through Thursday.
"Despite the fraught political situation in which South Africa currently finds itself, we note that dynamics past the immediate horizon favor out-performance in the country's assets," Phoenix Kalen, London-based director of emerging markets strategy at Societe Generale SA, wrote in report dated March 31. The bank's analysts say that making short bets on the rand is expensive and seldom works. Kalen advised waiting "for the dust to settle before entering long positions."
Bloomberg
(Visited 33 times, 1 visits today)